Women's New Midlife Crisis
A New York Times bestseller!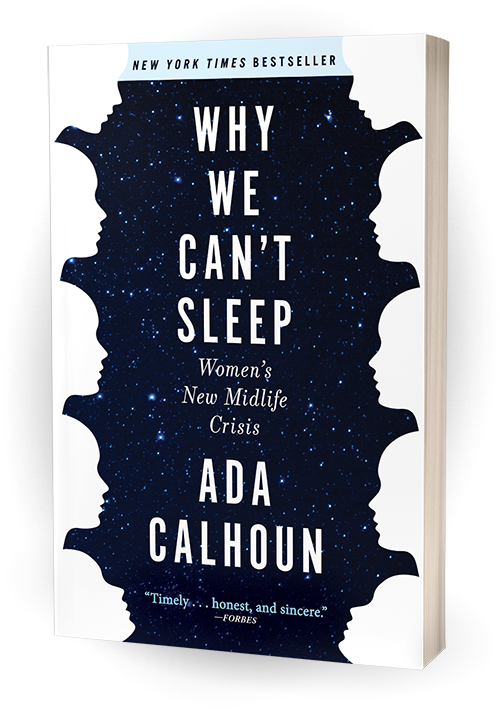 One of the Amazon Editors' best nonfiction books of 2020 and an Indie Next Pick, Why We Can't Sleep was one of the biggest books of the season according to the New York Times, Parade, O magazine, Book Riot, Vogue.com, RealSimple.com, and Forbes.com!
Exploring her cohort's experience as the generation raised to "have it all," Calhoun found women who were exhausted, terrified about money, under-employed, and overwhelmed. Instead of their issues being heard, they were told instead to lean in, take "me-time," or make a chore chart. In Why We Can't Sleep, Calhoun opens up the cultural and political contexts of Gen X's predicament. The result is reassuring, empowering, and essential reading for all middle-aged women, and anyone who hopes to understand them.
More About Why We Can't Sleep
"This is the book of our generation. Ada Calhoun brilliantly encapsulates the struggle and confusion that is the Gen X woman's experience in middle age. And by placing this condition into the context of the generations coming before and after, she makes sense of how it is that we're so surprised that we have failed at having it all. Heavily researched, expertly paced, and seamlessly woven together, Why We Can't Sleep provides an 'aha' moment that at once validates our experience and establishes a sense of community and hope."
—Janet Krone Kennedy, PhD, Clinical Psychologist, author of The Good Sleeper: The Essential Guide to Sleep for Your Baby (and You) and founder of NYC Sleep Doctor
"Ada Calhoun's soulful investigation into the complex landscape women in midlife face today is downright stunning. Calhoun has captured the voices—some broken, some resilient, many barely staying afloat—of over 200 women from around the country and in doing so, shown us how much we share in divisive times. You will recognize yourself in these pages, breathe a sigh of relief, and think, I'm not alone."
—Susannah Cahalan, author of the New York Times bestselling Brain on Fire
"Helping women realize that some difficulty, some confusion, is not just all in their mind is probably one of your more feminist acts, and the impressive amount of research Ada Calhoun did on the very specific forces, past and present, that are bedeviling Gen X women as they face the strange period that is midlife is just that kind of gift. But the other gift is that she writes with clear sight, compassion, and hope about our very specific talents and tenacity. Which means: this book is a thousand times more healing than a jadeite egg!"
—Carlene Bauer, author of Not That Kind of Girl and Frances and Bernard
A refreshing take on marriage.
One of the top ten memoirs of the year (W magazine), Wedding Toasts I'll Never Give shows that marriage "isn't a happy ending, but rather an opening scene" (Times Literary Supplement). In these "warm-hearted, Ephron-esque" (Washington Post) essays inspired by her popular Modern Love column, Ada Calhoun offers a "funny" (Today Show), "insightful" (Star, "Hot Book"), "raw and relatable" (Brides) portrait of modern coupledom, "a thoughtful read for the monogamous, non-monogamous, and every relationship iteration in between" (New York). In the New York Times Book Review's "By the Book," Tom Hanks said it was the last book to make him laugh: "I mean, underlining and yellow marker bust-out laughs." Molly Ringwald called it "the definitive meditation on marriage in all of its mystery and imperfection."
More About Wedding Toasts I'll Never Give
"ONE OF THE TEN BEST MEMOIRS OF 2017…This frank collection meditates on marriage as an ever-evolving thing, one full of failure and triumph and lots of change… A hilarious relief from the 'happily ever after' narrative."
"[A] lighthearted approach to the toils and snares of marriage… original, engrossing."
"Raise a glass to these reality-check essays that are equal parts ode to marriage ("I adore my husband and plan to be with him forever") and sly acknowledgement to its challenges ("I also want to run screaming from the house because he insists on falling asleep to Frasier reruns").
—O magazine, "10 Titles to Pick Up Now," June 2017
The Many Lives of America's Hippest Street
A provocative city history.
Ada Calhoun, who grew up on St. Marks Place, interviewed 250 past and present East Villagers for this surprising New York City history, one of the best nonfiction books of 2015 according to Kirkus, The Boston Globe, and the Village Voice.
Organizing the street's centuries-long history around the moments when people have declared "St. Marks is dead," this vibrant, idiosyncratic work offers what The Atlantic calls a "timely, provocative, and stylishly written" new take on urban nostalgia.
More About St. Marks Is Dead
A Village Voice cover profile of the author declared, "With St. Marks Is Dead, Ada Calhoun just became the most important new voice on old New York." The paper also called the book the year's "Best Nonfiction Book About New York."
One of the best books of the year — Boston Globe, 2015, which earlier in the year wrote in "Fall Suggestions": "Calhoun makes a case for the enduring relevance and legacy of St. Marks Place, the quintessential downtown street and home to everyone from W.H. Auden to Keith Haring." Also named one of the best books of the year by Kirkus, Orlando Weekly, and the New York Post.