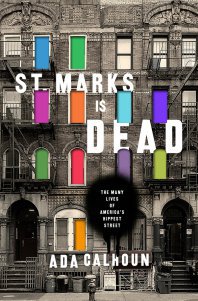 St. Marks Is Dead: The Many Lives of America's Hippest Street. Coming November 2, 2015 from W.W. Norton & Co. Pre-order from Amazon, Barnes & Noble, or iBookstore.
Why should we care about St. Marks Place?
St. Marks Place is the hippest street in America. It has always been a home for misfits, and there are still kids flocking here from all over the city, and the world. Girls and Broad City both prominently featured the street in 2015. For a century it has been where young people—revolutionaries in the teens, Beats in the fifties, punks in the seventies—have gone to feel free and find each other. In the 1960s, it was the east coast center for hippie culture. The East Village had The Electric Circus, The Dom, and The Fillmore East. American punk was born here: the New York Dolls, the Ramones, Blondie. The hardcore kids and Beastie Boys hung out here in the eighties. And now you can sing all those bands' songs at the East Village's many karaoke bars.
Where did you get the idea for this book?
I grew up on the street. My parents have lived there since 1973 and I was born in 1976. I got tired of people saying about my home street, "That place used to be something. It's dead now." Sometimes the time period they said was the best was when I was a kid, and I thought, Really? The eighties in the East Village sort of sucked if you were in elementary school. In the course of three years of research, I learned that people have always said St. Marks was dead. One thing you hear a lot about the street is: "I was there when it was cool. It's over now." People said that in the fifties about the thirties, and in the eighties about the sixties. Whenever people say that to me I ask them to tell me the last time they stayed out until super late on St. Marks Place. I did recently and it was packed with young people having the time of their lives. I'm very suspicious of anyone who identifies the best era in a place's history as coinciding precisely with when they were sixteen.
Was there anything that surprised you in your research?
Everything. Before I started writing my book, I thought the street had always been sort of a dive. But it began as an elite thoroughfare of row houses. James Fenimore Cooper lived here, and the family of Alexander Hamilton. And it was Peter Stuyvesant's farm. Abraham Lincoln gave a speech at Cooper Union that people credit with helping him become president. I was surprised that it's been home to so many important phases in New York City's history. And I was also surprised that the reigning narrative of "artists came to the East Village in the sixties and were beloved saviors of an empty neighborhood" is totally fake. They were hated at least as much as they now hate the kids they see coming in and taking over. There's this Orange Mothers song I listened to a million times while writing this book. It's called "Kids (Don't Know)." It goes: "When we were kids, we walked a thousand miles to school... Kids don't know. No, they don't know. What it was like, like when we were young..."
Why in your book and title is there no apostrophe in St. Marks Place?
For the same reason there isn't one on the street signs or in the White Pages—it's the official spelling of the street name. It took me a while to get used to it, too!
What was it like growing up in the East Village in the 1980s?
Normal, I thought. In retrospect, it was sort of a hellscape. Homeless people were always camping out in the lobby. My mom's friends were dying of AIDS. I was followed by strange men all the time. Junkies were always nodding out on our corner. Our apartment was broken into a few times. I never left the house without being offered drugs. I saw the suburbs for the first time when I was about eleven and it blew my mind. I wrote a story about that for the New York Times Magazine. Today, the street is much safer and cleaner, and more expensive. But it's still pretty trashy, and I say that with affection. There are still a whole lot of drunk teenagers. There are a lot more tattoo and piercing parlors. Times Square has cleaned up, but somehow St. Marks Place, in spite of all the new buildings, is holding it down for scuzziness.
Why did you interview more than 200 people for your book?
One thing I have not liked about a lot of books about the East Village to date is that they only tell stories from the point of view of culture heroes: the Beats, the punks, the artists. I wanted to show them in context. So there are a lot of famous people in the book, but I also talked to cops, shopkeepers, teachers, kids, priests, homeless people. They put all the great and not-so-great stuff that has come out of the East Village in some perspective. Plus, one of my favorite things about being a reporter is having an excuse to ask questions of everyone you were ever curious about. For the past few years, I've done a lot of getting coffee with people at Café Mogador or drinking with them at Grassroots and hearing new, amazing stories I'd never heard before. I feel so lucky I got to interview a bunch of people who lived on the street in the 1940s, and Father Michael Allen, who had some of the best, most telling stories about St. Marks Place in the late sixties. He passed away in 2013.
Who is your favorite St. Marks Place denizen of all time?
There are so many candidates: Mr. Zero, Dopey Benny Fein, Harold Hunter, John Spacely. But if I had to pick just one I'd say the poet W.H. Auden, who lived at #77 and who was—except for his friend Dorothy Day—the closest we've ever had to a saint in the East Village. When he was asked if he would marry a stranger to help her escape the Nazis he cabled back "DELIGHTED." Not only was he a supremely great writer, but he also seemed to genuinely delight in opportunities to be a miraculously wonderful person. There's an Auden line on a plaque attached to the side of La Palapa, the delicious Mexican restaurant in the ground floor of his former building: "If equal affection cannot be, let the more loving one be me." A friend at the New York Times, Jeff Roth, uncovered a Karl Bissinger photo of him in their archives that I've reprinted in the book courtesy of Bissinger's son. It shows Auden standing in front of the local hardware store in his slippers (which he wore everywhere). He's beaming.
What's your favorite longstanding St. Marks institution?
There are so many. Gem Spa is famous for egg creams, and isn't the name the best? It makes me think of a hot tub full of jewels. I love Trash and Vaudeville's manager Jimmy Webb, the spirit animal of St. Marks Place. Stromboli Pizza. The barbershop Royal Hair has been around since at least the early sixties, and it's the only place my son will go to get his hair cut. St. Mark's Comics, where I worked in high school. And then there are great new bars, like Barcade. And so many good Japanese and Korean restaurants it's hard to pick. Boka and Kenka are great. Spot Dessert Bar serves this dessert that looks like a plant in a flowerpot.
Do you have a favorite activity in the East Village?
You can't visit the East Village without walking the length of St. Marks Place from Astor Place to Tompkins Square Park. Especially late at night, it still feels pretty old-school. There are more than a dozen tattoo and piercing parlors on St. Marks Place alone. I also like shopping at the vintage and thrift stores in the East Village. My favorite is Angela's Vintage on Second Avenue and Second Street, where I bought my wedding dress for $100 and which I wrote about for New York magazine. Also great: Tokyo Joe and Buffalo Exchange on East 11th Street and the Cure Thrift Shop on East 12th. And there are terrific bookstores, like St. Mark's Bookshop (now in a very cool new space on East Third St.) and East Village Books on St. Marks Place off First. I recommend having drinks at a bar on St. Marks Place and then drunk-shopping. NYCgo has a great video about the East Village with more suggestions.
You've counted more than forty songs that have name-dropped St. Marks. Which one captures it best?
Dozens of songs name-check St. Marks Place. Most of them mention drinking or smoking pot. A lot of them also talk about sunrises and sunsets. Some of my favorites are The Replacements' "Alex Chilton," They Might Be Giants's "On the Drag," Eugene McDaniels's "Welfare City," and The Dictators' "Avenue A." Black 47's "40 Shades of Blue" may be the best, because it's about a drunk hitting bottom, which has happened on St. Marks a lot over the past hundred years. And also because I listened to it a lot when I was 16.
Other questions? See the general FAQ here, or email [email protected]