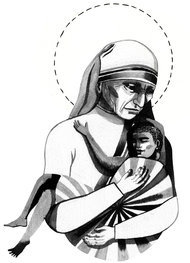 Arianna Vairo/New York Times
My vow to do nothing but work on my book while on this residency lasted exactly 48 hours, at which point I woke up in the middle of the night and wrote an op-ed on Mother Teresa.

I'm left to wonder if it's something about Mother Teresa herself that has caused her bid for sainthood to stall. In a book of letters published posthumously, "Come Be My Light," she wrote: "Jesus has a very special love for you. As for me, the silence and the emptiness is so great that I look and do not see, listen and do not hear." Some atheists gleefully latched onto those remarks as a confession of doubt. But that book endeared her even more to others, including me. The fact that she felt doubt but continued to do so much (even if it wasn't everything imaginable by Western standards) was inspiring to those of us who struggle to muster basic human kindness when we haven't had enough coffee.
Read the whole thing here.