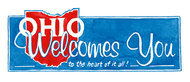 I have an essay in this Sunday's New York Times Magazine Lives column: "Falling for Sprawl":
One preteen summer, I was sent by my parents to Kent, Ohio, to spend a few days with my cousins, Jessica and Anna. They were close to my age and looked like me: Norwegian, with blond hair and blue eyes. They, and their parents, a dental hygienist and geographer, were warm and easygoing. And yet, when I arrived at their cozy two-story house, it felt like touching down on an alien planet.
Read the whole thing here.
The NYTM's 6th Floor Blog also asked me to blog about the best writing advice I ever got. I confess that my entire career is a revenge fantasy.