PUBLISHERS WEEKLY: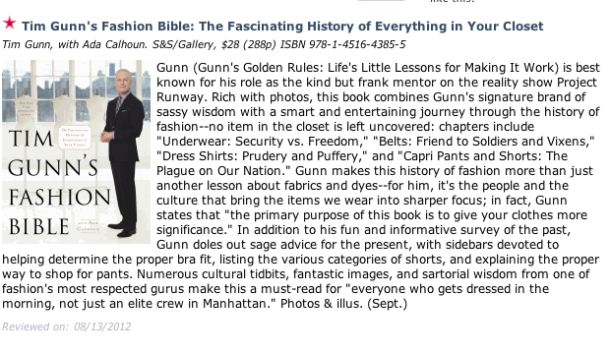 KIRKUS:
TIM GUNN'S FASHION BIBLE
The Fascinating History of Everything in Your Closet
Author: Gunn, Tim
Author: Calhoun, Ada
Review Issue Date: August 15, 2012
Online Publish Date: July 30, 2012
Publisher:Gallery Books/Simon & Schuster
Pages: 288
Price ( Hardcover ): $28.00
Publication Date: September 11, 2012
ISBN ( Hardcover ): 978-1-4516-4385-5
Category: Nonfiction
"Fashion history meets style guide in the latest from the Project Runway mentor Gunn (Gunn's Golden Rules: Life's Little Lessons for Making It Work, 2010, etc.) combines his signature style advice with a history of common items of clothing. Garment by garment, the author explains the development and significance of each, showing readers how what was once essential is now unnecessary (gloves as daily wear) and what was now unthinkable is now commonplace (denim as a back-to-school staple). Gunn is deeply knowledgeable about American sportswear and introduces readers to designers, such as Claire McCardell (1905–1958), who deserve more recognition for their contributions to fashion. The scope is intentionally narrow; the author limits his analysis to Western fashion, and though he supplies unobtrusive footnotes, he does not provide an exhaustively scholarly perspective. Instead, he admonishes both women ("[leggings] are not an alternative to actual pants") and men ("let's talk about pleats. I maintain: never") in his signature voice; helpful diagrams and illustrations are included, as is an appendix designed to help readers evaluate their own wardrobes. The chapter on dresses, in which Gunn distinguishes between draped "Helen" dresses and tailored "Cleopatra" dresses, is outstanding. The author manages to seamlessly integrate his style advice and the historical material, an accomplishment not always duplicated throughout the book. Nevertheless, the book charms even when disorganized, and it's the closest most readers will get to a lunch date with the dishy author. Zingy and opinionated, this romp through the development of American fashion gives readers a historical perspective with which to view their closets."