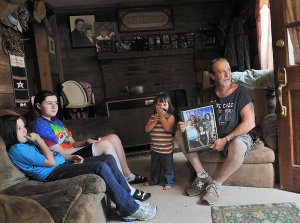 NYTM: Mommy Had To Go Away for A While
Here's an article I wrote for this week's New York Times Magazine about the chemical endangerment prosecutions of new mothers for giving birth to babies who have been exposed to drugs. Online they're calling it "The Criminalization of Bad Mothers."
Pictured- The Kimbrough family in their Russellville living room. Missing is Amanda, who is now in jail. By Lynsey Addario for the New York Times.